The most recent survey on the professional status of DPSDE graduates was conducted in March and April 2015 among 340 graduates (253 answers, 74.4%). Regarding the general picture of the graduates absorption in the Labor Market, it was observed that:
The absorption rate of graduates in the labor market is high: Of the 253 graduates who responded, 72.3% work - either solely or while continuing their studies. Additionally, some graduates pursue postgraduate / doctoral degrees (7.1%) or serve their military service (2.4%).
The total unemployment rate of DPSDE graduates is 18.2% (a percentage of this (2.4%) has just graduated from DPSDE). This percentage is considered to be significantly lower given the general unemployment rates among young people in our country in recent years.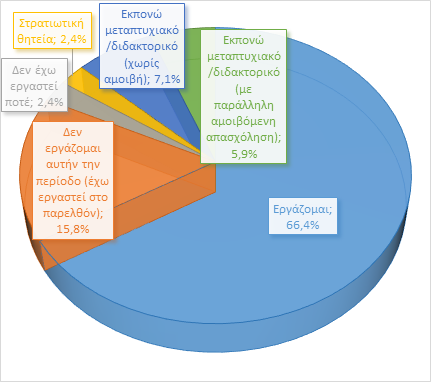 For the total number of employed graduates (professionally employed and/or continuing their studies, a total of 190 answers):
69.5% of graduates are in Greece, 30.5% abroad.
The overwhelming majority of 94.2% of employees are active in subjects that have been taught in the DPSDE, only 5.8% working in non-subject positions.
A very large percentage of 83.1% work in the private sector.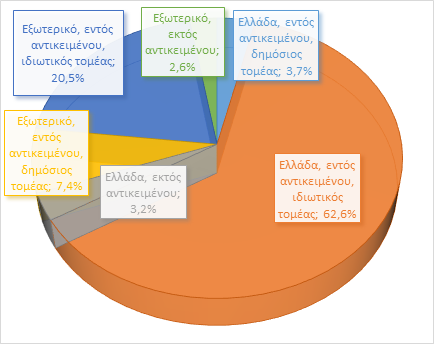 Regarding the subject of employment of graduates, as defined by its three (3) study streams, we observe:
The majority of graduates (30.4%) work in the field of Industrial Product Design (2nd course of study), in titles such as: Product Design, Furniture, Lighting (products), Production Design / Production, Quality Control, CAD / CAE Design Engineer , etc.
An equally important percentage of DPSDE graduates (28.6%) work in the field of Interactive Systems Design (1st course of study) in fields such as: Web Design, User Experience Design, Interaction Design, Front-End Development, Multimedia Design, New Media , etc.
19% of DPSDE graduates work in the field of designing services (3rd course of study), working in positions such as: Brand Designer / Manager, Social Media Specialist, Senior Operations Management, Interior Designer, Space Planner.
10.9% of graduates work in positions which combine all the above mentioned fields, mainly in design offices (which in their majority have been established by the graduates themselves) that undertake similar projects.
An 11.3% of graduates work in places other than the subject of the Department.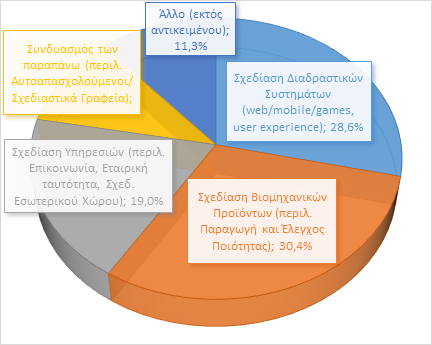 From the above some interesting conclusions can be drawn. To begin with, despite the economic crisis the country is experiencing, DPSDE graduates appear to have a significant absorption in the market. The overwhelming majority of graduates work in the private sector, which, despite being hit hardest by the crisis, continues to absorb graduates. The proportion of workers in Greece and abroad is 7 to 3, which means that the vast majority remain in Greece at a time when young people in the country are massively migrating abroad. Finally, the majority of DPSDE graduates work on their chosen subject (88.7%), which is very important for creating and maintaining a community of professional designers and design engineers.
To view the survey data in more detail, download the following file (in Greek): Graduate Absorption (2015)